Appliance Repair in Brampton
Get $25 Off on all Appliance Repair!
We offer quick and reliable appliance repair services in Brampton. We're family-owned and ready to serve you 7 days a week, including holidays!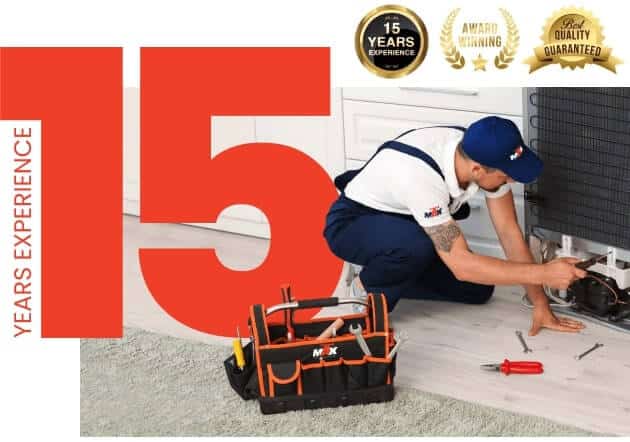 Same Day Home Appliance Repair in Brampton
Warranty on Parts & Labour
100% Customer Satisfaction
competitive rates & Great service.
Affordable Appliance Repair in Brampton
| | |
| --- | --- |
| ⏰ Availability | Same Day |
| 📍 Service Areas | Across Brampton |
| 🛠️  Experience | 15+ Years |
| 💲 Fridge Repair Cost | $99-$189 |
| 💲 Oven Repair Cost | $99-$229 |
| 💲 Stove Repair Cost | $99-$229 |
| 💲 Dishwasher Repair Cost | $99-$179 |
| 💲 Dryer Repair Cost | $99-$199 |
| 💲 Washer Repair Cost | $99-$199 |
*Please note that the prices listed above are approximate and may vary based on the complexity of the services required, as well as the brand and model of your appliance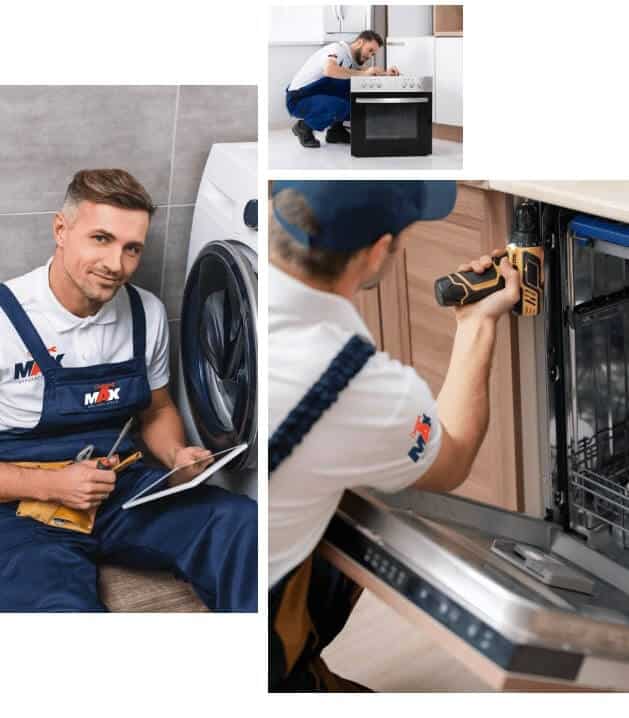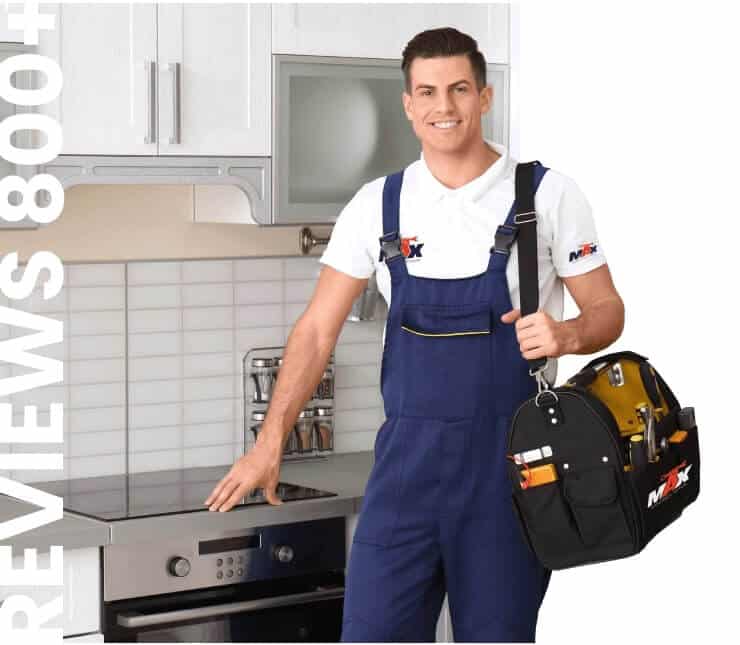 How are we Different than Other Appliance Repair Companies?
As a family-owned business, we treat our customers like an extension of our family. We offer a level of personalized service that's hard to find elsewhere.
Rapid, Reliable Repairs in Brampton
When your appliance needs fixing, you don't have time to wait. That's why we offer swift, same-day repairs.
No matter the brand or model of your appliance, our experienced team is well-equipped to handle it.
We care about your peace of mind. Our commitment to providing quality service includes our technicians being fully insured.
We believe in transparency and honesty from the outset. Before we begin any appliance repair, we offer you a no-obligation, upfront quote.
Customer Reviews
We're very happy with the prompt, courteous service we received from Vlad and the office. Email and text communication helpful! Vlad was very knowledgeable and diagnosed the issue with our fridge quickly. Part came within a couple of days and installation right after!
Rowan did great job for my refigater so happy good job.
Viktor was great! Communication through phone & text. On time and repaired the issue with our range. Professional and efficient. Thanks!
Our dishwasher inlet was giving us issues and we contacted MAX appliances. Roman was the technician and he was on time and reliable. At his initial visit he tested the dishwasher, diagnosed the issue quickly and explained what the issue was. He was thorough about the cost and to ensured we understood before proceeding. He provided me his number just incase anything goes wrong from when he left to the next visit. At his second visit, he fixed the washer within the timeframe suggested and explained what was wrong and some steps to avoid the issue. Roman is a great technician and we would recommend MAX appliances to anyone in need.
Danielle Coldwell
2023-11-24
Vlad was fast! great service :)!
Vlad came out initially and fixed the problem right away. We noticed a separate issue and he came to inspect again for no service charge. Both times Vlad was on time and super helpful. Would use these services again.
Антон Тахтаров
2023-11-21
Vlad was good 👍🔥
Julie Petruzzellis
2023-11-21
Viktor arrived on time the next day and fixed both our dishwasher and dryer. He went the extra mile to help with a small unrelated leak as well.
Vlad came and identified a bizarre issue and promptly fixed it. They were same day, super rapid and very reasonably priced. Ty Vlad!
We Fix All major household appliances
Our Appliance Repair Services
At Max Appliance Repair, we're all about nailing it on the first try. Our focus is on superior craftsmanship, honed by years of experience, stellar customer service, and wielding the right tools for the job. Whether it's your fridge, dishwasher, washer, dryer, oven, stove, or freezer, we are committed to delivering lasting results.
Fridge Repair in Brampton
Is your refrigerator acting up? Our team in Brampton can fix your fridge today! We've got the expertise and the right parts to fix any fridge make and model, so you can enjoy uninterrupted cooling again!
Here are some common refrigerator issues we deal with on a daily basis:
Inadequate Cooling: This can result from a faulty thermostat, compressor, or blocked condenser coil. We can diagnose and restore proper cooling.
Leaking Water: Often caused by a blocked defrost drain, leading to water accumulation.
Excessive Frost Build-up: Indicates a problem with the defrost system, possibly a faulty timer, heater, or thermostat.
Noisy Operation: Unusual sounds can point to issues with condenser fan motor, evaporator fan motor, or compressor.
Faulty Ice Maker: Problems like no ice production, small or misshapen cubes, or leaks can be fixed by addressing water inlet valve, ice maker assembly, or water line issues.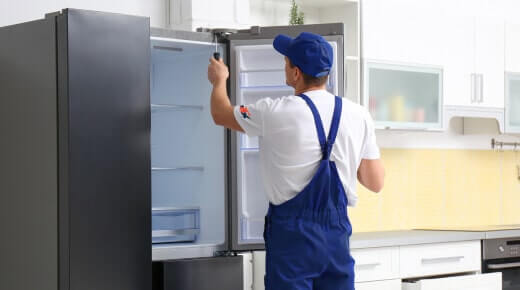 Dishwasher Repair in Brampton
Dishwasher making noise, leaking, or not draining properly? Our dishwasher repair technicians in Brampton can fix your dishwasher today! We hold 15+ years of experience and are known to fix appliances of any make or model in the first go!
Some common dishwasher problems we expertly fix are:
Clogged Drainage: Often caused by food debris or soap scum, we can professionally unclog your drains and ensure smooth drainage.
Water Leaks: Leaks from damaged seals, loose connections, or faulty valves can lead to kitchen water damage.
Poor Cleaning: Ineffectively cleaned dishes may result from clogged spray arms or low water pressure.
Noisy Operation: Unusual sounds during operation, like grinding or squeaking, can be caused by motor or pump issues. Our technicians can pinpoint and fix the noise source.
Detergent Dispenser: Malfunctions may disrupt detergent dispensing. Checking for clogs or damage and replacing dispenser components can restore proper dishwashing.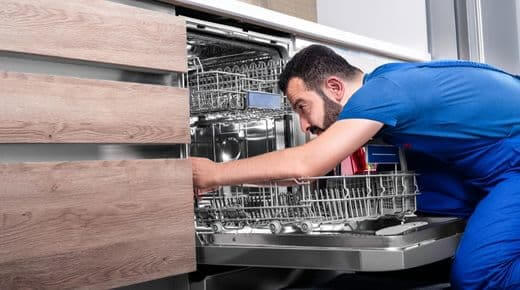 Oven Repair in Brampton
Is your oven acting up? Our seasoned team in Brampton, well-versed in repairing all makes and models, will swiftly restore your oven right away. We offer transparent pricing and same-day hassle-free oven repairs.
Common oven issues we fix on a daily basis are:
Heating Element Problems: If your oven isn't heating properly, our technicians can replace worn-out elements to get it cooking again.
Temperature Accuracy: Consistent temperature issues? It could be a faulty thermostat, sensor, or calibration.
Uneven Baking: Frustrated with uneven results? We'll find and fix the problem, whether it's temperature fluctuations or faulty elements.
Control Panel Glitches: Unresponsive buttons or errors? Loose connections, damaged boards, or faulty switches might be the cause.
Door Dilemmas: If your oven door doesn't close right or has hinge problems, it affects safety and cooking. We'll repair or replace hinges, gaskets, or components as needed.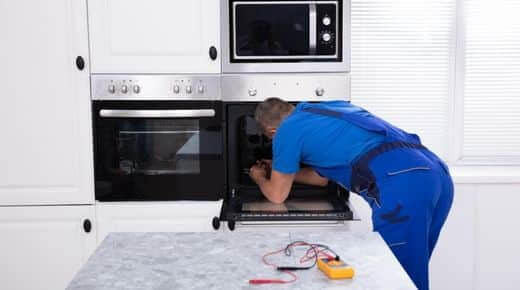 Range, Cooktop and Stove Repair in Brampton
Is your cooktop/ range burner not lighting or making odd sounds? Our expert technicians in Brampton can fix it today! With budget-friendly prices and over 15 years of experience, you can trust us for reliable repairs of all makes and models.
Some common oven issues are expertly fix are:
Stove Burner Problems: Electric stoves may have issues like non-heating burners or uneven heating, often caused by faulty elements or switches. For gas stoves, burners not igniting may require cleaning or igniter replacement.
Temperature Inaccuracy: Stoves that struggle to reach or hold the right temperature may signal a faulty thermostat, heating elements, or calibration.
Uneven Cooking: Consistently uneven results? It could be heating element or internal temperature distribution problems. Our technicians can diagnose and fix these issues.
Cooktop creating sparks: Moisture or electrical failures can cause the switch to "short". Call for expert help instantly to fix this.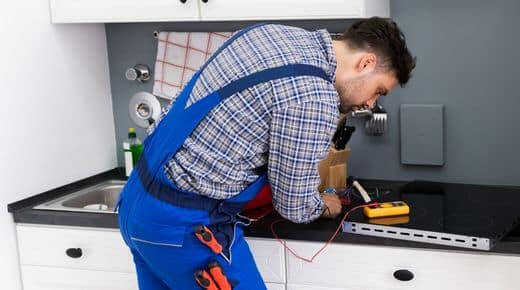 Washer Repair in Brampton
Is your washer making noises, refusing to spin, or leaking? We will fix your washer right away! Our team of experts in Brampton is experienced in repairing washers of all makes and models. We offer affordable appliance repairs and are known for fixing appliances right in the first go!
Common washer issues we expertly fix are:
Not Draining Water: Clogs, pump issues, or faulty valves may be the culprits. Our washer repair technicians will ensure proper drainage.
Water Leaks: Damaged hoses, loose connections, or worn seals can lead to leaks. We'll inspect and replace faulty components to prevent home water damage.
Noisy Operation: Unusual sounds during washing, like grinding or squeaking, may signal motor, belt, or drum problems. We'll identify and fix the noise source.
Failure to Spin or Agitate: Issues with spinning or agitating could be due to drive belt, motor coupling, or transmission problems. We'll diagnose and restore proper washer functionality.
Excessive Vibrations: Washers vibrating too much may need load balancing, leveling adjustments, or suspension component replacement.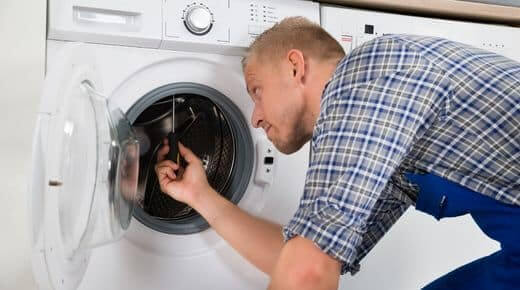 Dryer Repair in Brampton
Are you left with a pile or dripping clothes due to a malfunctioning dryer? Don't fret! Our team of expert technicians in Brampton can come and fix your dryer today itself! We operate 7 days a week including holidays and offer budget friendly repairs.
Some common dryer Issues are:
No Heat or Insufficient Heat: If your dryer isn't heating properly, it may be due to issues with the heating element, thermal fuse, or thermostat. Our professionals can diagnose and replace faulty components.
Long Drying Time: Dryers taking too long to dry clothes may indicate vent clogs, heating element problems, or thermostat malfunctions. We'll improve drying efficiency by cleaning the vent and checking components.
Unusual Noises: Dryers making strange noises like squeaks or rattles might have worn-out drum rollers, a faulty belt, or damaged bearings. We'll inspect and replace these parts for quieter operation.
Overheating or Overheated Dryer: Safety is vital, and overheating dryers can pose risks. Causes may include a blocked vent, faulty thermostat, or defective thermal fuse. Our dryer technicians will ensure safe operation.
Failure to Start: If your dryer won't start, it could be due to a faulty door or start switch, or electrical issues. We'll diagnose and fix the problem to get your dryer running.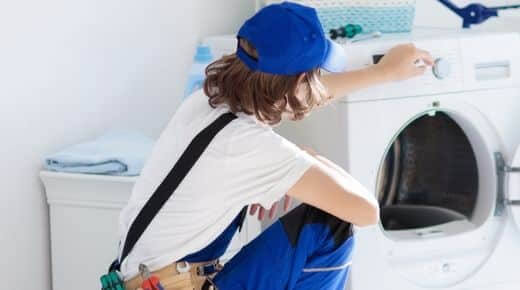 Same-day Service is Available in Brampton
Fix Your Appliances Today!
Contact us today to schedule your appliance repair or installation and experience our reliable, affordable, and competent service for your appliances!
Frequently Asked Questions about Appliance Repairs
Reputable Appliance Services across Brampton, ON
We respect the value and significance of every appliance which is why we always go the extra mile to ensure your satisfaction. We're proud to offer our expert appliance services across Brampton, and we're dedicated to delivering exceptional results to each and every customer.
Local Appliance Repairs in Brampton: Neighborhood Coverage
Bovaird Dr E & Main St N – L6V
Bramalea City Centre- L6T
Bramalea Rd & Sandalwood Pkwy E – L6R
Brampton East – L6T, L6V
Brampton Soccer Centre – L6R
Brampton West – L6X, L6Y
Castlemore – L6P
Central Park – L6S
Churchville – L6V
Claireville – L6T
Credit Valley – L6Y
Deerfield – L6R
Downtown Brampton – L6V, L6X
Ebenezer – L6T
Fletchers Meadow – L6R
Goreway Drive Corridor – L6P
Heart Lake – L6Z
Hurontario St & Steeles Ave E – L6W
Huttonville – L6V
Kennedy Rd N & Sandalwood Pkwy E- L6Z
Kennedy Rd S & Queen St E – L6W
Kennedy Rd S & Steeles Ave E – L6W
Lundy Village – L6P
Madoc – L6V
Main St S & Queen St E – L6W
Meadowvale Village – L6P
Mount Pleasant – L7A
Northwood Park – L6V
Queen St E & Airport Rd – L6S
Shoppers World Brampton – L6Y
Snelgrove – L6V
Spring Valley – L6R
Springbrook – L6R
Springdale – L6R
Torbram Rd & Queen St E – L6S
Tullamore – L6V
Tullamore – L6V
Valley Creek – L6P
Westgate – L6Y
Woodhill – L6R