Samsung Appliance Repair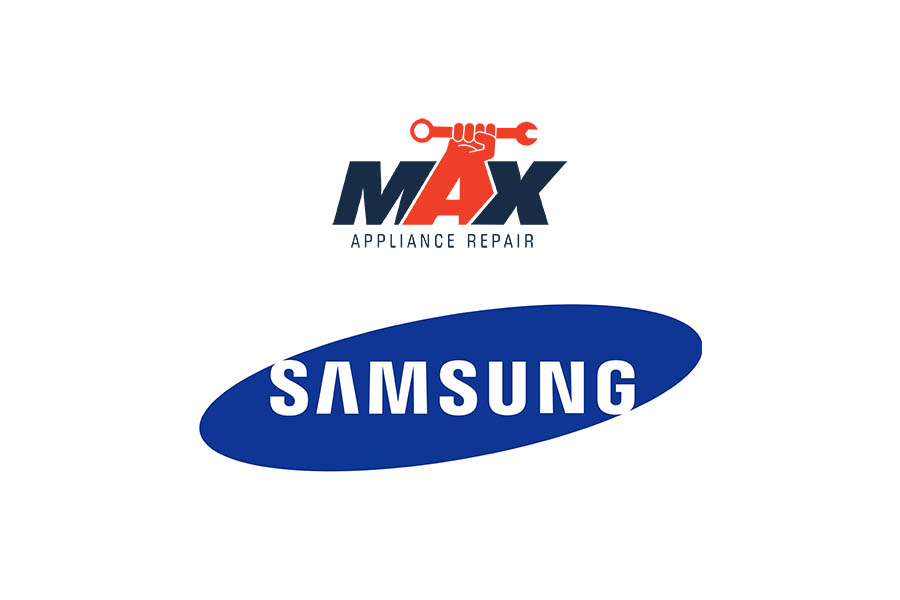 Reliable Samsung Appliance Repair in Toronto and the GTA!
We specialize in Samsung appliance repair and we can solve any Samsung issue. Our team of friendly technicians are fully trained to repair any Samsung washer, dryer, stove, oven, dishwasher, fridge or freezer.
Over 15 years of experience
Same day service available
Available 7 days a week
Limited warranty on parts and labour
Fully certified and trained technicians
Free service call with repairs
With over 15 years of experience serving households across Toronto and the GTA, we've become Toronto's top rated Samsung repair experts. As a proud local and family owned business, we are committed to providing our clients with the best possible service at the best possible price. When you choose Max Appliance Repair, you choose a company that believes in superior service and fair prices. Our experts are equipped with common parts and tools to do the job right.
We specialize in Samsung appliances no matter what the issue is. Whether your Samsung dishwasher is leaking or your Samsung fridge is too warm, or you're experiencing any other issues, we're here to fix it as fast as possible.

Book Your Samsung Appliance Repair Today
Booking your Samsung repair is as simple as giving us a call or filling out our online form. Once your appointment is booked, our team will give you a call to confirm. Our Samsung appliance repair services are available within the same day.
Refrigerator
Oven and range
Stove
Dishwasher
Washer
Dryer
Models We Service
Samsung refrigerator repair
Our experts have repaired many Samsung fridges in the past. We are the team to trust whenever you're experiencing any issues with your Samsung fridge. Whether your fridge is not cool enough, making strange noises, or anything else in between, we've got you covered with prompt, reliable and efficient service.
Get in touch with us today for fast Samsung fridge repairs.
Learn more about our Samsung fridge repair services.
Samsung oven and range repair
Our technicians are fully trained to repair any Samsung ranges and ovens. We will provide efficient, reliable and affordable repair services at your earliest convenience. Regardless of the issue, our team will get everything right for you.
If you are experiencing any problems with your Samsung oven or range right now, contact us right away for fast repairs.
Learn more about our Samsung oven repair services.
Samsung stove repair
Our expert team has the best knowledge of Samsung stoves, and we have been repairing many Samsung models over the past 15 years. We have earned a great reputation among customers due to our effective repairs and great customer services.
When you notice any worrying signs from your Samsung stove,  get in touch with us today.
Learn more about our Samsung stove repair services.
Samsung dishwasher repair
We provide same day repair services for your Samsung dishwasher. No matter if your dishwasher is leaking or making strange noises, you can trust us to help you right away.  Our team is fully equipped with the most up to date knowledge and common tools and parts to make everything right at the first appointment.
Contact us for same-day dishwasher repairs anywhere in Toronto and the GTA.
Learn more about our Samsung dishwasher repair services.
Samsung washer repair
We take pride in providing fast, quality and affordable repairs for Samsung washers. With over 15-year experience, we have worked on numerous models of Samsung washers and we are the most trustable team you can find.
Our team always arrives with essential tools and parts to repair the problem on-site efficiently. Contact us today.
Learn more about our Samsung washer repair services.
Samsung dryer repair
Life without your Samsung dryer might be difficult to imagine. Of course, when your dryer no longer tumbles, does not turn on or if you notice a problem with the temperature regulation, it can be devastating.
Fortunately, you don't have to wait long for help to arrive. Our same-day dryer repairs will get your appliance running again in no time!
Learn more about our Samsung dryer repair services.
Some of the most Popular Samsung Models We Service
DMR57LFS
DMRT78AHS
DMT300RFSXAC
DMT300RFWXAC
DMT800RHS
DMT800RHSXAC
DV203AESXAC
DV203AEWXAC
DV210AEEXAC
DV210AESXAC
DV218AESXAC
DV218AEWXAC
DV220AEWXAC
DV221AEGXAC
DV229AEGXAC
DV22K6800EWAC
DV250AEGXAC
DV306BEWXAC
DV330AEWXAC
DV337AEGXAC
DV337AERXAC
DV339AEGXAC
DV339AELXAC
DV339AERXAC
DV350AEGXAC
DV350AEPXAC
DV350AERXAC
DV361EWBEWRAC
DV365ETBGSFAC
DV365ETBGWRAC
DV405ETPAGRAC
DV405ETPASUAC
DV409SELXAC
DV42H5000EWAC
DV42H5200EPAC
DV42H5600EPAC
DV431AEPXAC
DV448AEPXAC
DV456EWHDWRAA
DV456EWHDWRAC
DV45H7000EAC
DV45H7000EWAC
DV45H7200EEAC
DV45H7400EPAC
DV45K6200EWAC
DV45K6200EZAC
DV50F9A8EVPAC
DV50F9A8EVPXAC
DV520AEPXAC
DV52J8700EPAC
DV5471AEPXAC
DV665JWXAC
DVE45T7000WAC
DVE50M7450PAC
DVE50M7450WAC
DVE50T5205W
DW7933LRASRAC
DW7933LRAWW
DW7933LTASRAC
DW80F600UTBAC
DW80F600UTSAC
DW80F800UWSAC
DW80H9970US
DW80J3020US
DW80K2021US
DW80K5050US
DW80K5050UW
DW80K5061US
DW80K7050US
DW80M2020US
DW80M2020USAC
DW80M3021USAC
DW80M3030US
DW80N3030US
DW80R2020US
DW80R2031US
DW80R5061UG
DW80R5061US
DW80R506US
DW80R9950U
DW80R9950UG
DW80R9950US
FE-R500WXXAC
FE-R700WX
FE-R700WXXAC
FE710DRS
FE710DRSXAC
FTQ386LWX
ME19R7051PS
ME21M706BAS
NE58F9710WS
NE58H9970WSAC
NE58K9560WGAC
NE58K9560WSAC
NE595R0ABSR
NE595R0ABSRAC
NE595R0ABWW
NE59J3421SSAC
NE59J7630SSAC
NE59M4320SWAC
NE59R4321SSAC
NE59R6631SSAC
NE59T7851WSAC
NE63A6511SSAC
NE63A6711SGAC
NE63T8111SS
NE63T8711SSAC
NE63T8751SGAC
NE63T8751SSAC
NE63T8911SSAC.
RB193KASB
RB193KASW
RB194ABWP
RB196ABRS
RB196ACRS
RB196ACWP
RF18A5101SR
RF18HFENBSR
RF18HFENBSRAA
RF195ABRS
RF197ABWP
RF197ACRS
RF197ACWP
RF20A5101SR
RF220NCTASGAA
RF220NCTASRAA
RF220NCTAWW
RF220NFTASG
RF220NFTASGAA
RF220NFTASR
RF220NFTASRAA
RF220NFTAWW
RF220NFTAWWAA
RF22A4221SRAA
RF22M9581SGAA
RF22M9581SRAA
RF23HCEDBSR
RF23HCEDBSRAA
RF23M8090SG
RF23R6201SGAA
RF23R6201SRAA
RF25HMEDBSGAA
RF25HMEDBSR
RF25NMIDBSG
RF260BEAESR
RF260BEAESRAA
RF261BEAESRAA
RF263AFBP
RF263AFRS
RF263BEAESGAA
RF263BEAESR
RF263BEAESRAA
RF265AARS
RF265ABRS
RF265BEAESRAC
RF266AFRS
RF26HFENDSRAA
RF26HFPNBSRAA
RF26J7500SRAA
RF26J7510SG
RF26J7510SR
RF26J7510SRAA
RF27T5201SG
RF27T5201SGAA
RF27T5201SR
RF27T5501SRAC
RF27T5502SRAC
RF28HFEDBSR
RF28HFEDBSRAA
RF28HMEDBSRAA
RF28R6201SGAA
RF28R6201SRAA
RF28R7201SGAA
RF28T5021SR
RF28T5A01SR
RF31FMESBSRAA
RFG237ACRS
RFG237ACRSXAC
RFG297AARS
RFG297ACRS
RFG297HDRS
RFG29PHDRS
RS263TDRS
RS277ACBP
RS277ACRS
RT18M6213SR
RT18M6213WW
WA40J3000AWA2
WA422PRHDWRAA
WA44A3205AW
WA456DRHDSUAA
WA456DRHDWRAA
WA456DRHDWRAA01
WA456DRHDWRAA02
WA45H7000AW
WA45H7000AW02
WA45H7000AWA2
WA45H7200APA2
WA45H7200AWA2
WA45M3100AWA
WA45M3100AWA4
WA45N7150AWA4
WA48J7770AWA2
WA50F9A8DSPA2
WA50M7450APA4
WA50M7450AWA4
WA50R5200AW
WA5471ABPXAA
WA54M8750AV
WF203ANSXAC
WF203ANWXAC
WF210ANWXAC01
WF229ANGXAC
WF241ANWXAA
WF331ANWXAA
WF331ANWXAA02
WF340ANRXAC01
WF350ANGXAC
WF350ANPXAA
WF350ANPXAA01
WF350ANPXAA04
WF361BVBEWRA2
WF364BVBGWRA2
WF365BTBGSFA2
WF42H5000AWA2
WF42H5200APA2
WF42H5500AFA2
WF42H5600APA2
WF42H5700AGA2
WF431ABPXAA
WF431ABPXAA02
WF448AAPXAC
WF457ARGSRAA
WF45H6100APA2
WF45H6300AGA2
WF45K6200AZA2
WF45K6500AV
WF45M100AWA5
WF45M5100AWA
WF45M5100AWA3
WF45M5100AWA5
WF45M5500APA5
WF45N6300AVA5
WF45R6100APAC
WF45R6100APUS
WF45R6300AVUS
WF45T6000AV
WF45T6000AW
WF45T6000AWA5
WF50T8500AVA5
WF50T8500AVAC
WF520ABPXAC
WV60M9900AV
WW22K6800AWA2
Common Samsung Dryer Issues.
There are a number of problems that could impact your Samsung dryer's performance. You can attempt to avoid issues with regular maintenance, like cleaning your dryer and emptying your lint trap. That being said, it is sometimes difficult to avoid problems with your dryer, like:
• The dryer is not turning on
• Samsung dryer not getting warm after starting a cycle
• Dryer is not spinning after starting a cycle
• Dryer is making strange noises or is too noisy
• Samsung dryer is getting too hot during a cycle
• Dryer is vibrating too much
• Samsung dryer doesn't won't heat up or properly dry clothes
It's recommended that you check your Samsung electric supply before calling a technician. If the power supply for your oven is in order, then the problem is best determined by a professional.
Common Samsung Washing Machine Issues.
When your washer gives you trouble, it can be a very frustrating experience. The idea of cleaning all your clothes manually is a non-starter for most homeowners. Modern washers are known for their many features and, as a result, some of the most common Samsungs are:
• The electronic part of your appliance. In some cases it's a small part that needs to be replaced and, in other cases, some more significant parts need changing.
• Pump problems can prevent water from entering or leaving your washer, and this could mean that you'll need to get some buckets ready while you wait for the technician.
• The motor on any washer works particularly hard during every wash cycle and wear and tear in this area can also cause parts to break.
• Samsung washer is not turning on
• Washer won't spin during a cycle
• The washer fails to drain
• Samsung washer is leaking water
• Samsung Washer is vibrating
• Washer won't run or stops mid-cycle
• Washer smells bad
No matter the problem or make of your washer, Max Appliance Repair will be right over to take care of the issue.
Common Samsung Dishwasher Issues.
When you notice a fault with your Samsung dishwasher, it can be quite unsettling. Just thinking about having to wash dishes by hand is enough to leave anyone feeling frustrated. Modern dishwashers are known for their complex functions and features, which means that the fault could be mechanical or electronic. You can do things like cleaning your dishwasher to help maintain the unit, but that doesn't mean that issues won't pop up from time to time. The first thing to remember is to check your water and power supply before calling a technician. If both are working properly, then the fault is most likely with the dishwasher. Here are some common issues that could be negatively impacting your washer:
• Problem with the thermostat
• The pump is not working properly
• Dishwasher motor doesn't work properly
• Dishes aren't coming out clean
• The unit is making strange noises
• Samsung Dishwasher is not draining
• The Samsung dishwasher is leaking
• Dishwasher is not turning on
• Samsung Dishwasher doesn't dry dishes
• Dishwasher smells bad
• Dishwasher doesn't dispense soap
Common Samsung Stove Issues.
There could be a number of reasons why your Samsung stove suddenly stops working as it should. The good news is that our Samsung technicians has fixed many of these problems, so you don't have to resort to DIY repairs. So we invite you to give us a call if your stove is experiencing any of the following problems:
• You are unable to adjust the heat on your unit
• The stove knobs are broken
• The Samsung stove coils are not heating
• The coils are damaged or are loose
• The electric supply is not working properly
• Samsung Stove burner won't heat
• The stove can't maintain the temperature
Remember, it's always best to call a professional technician for safe repairs.
Common Samsung Fridge Issues.
Since your Samsung fridge is made up of dozens of components, it's understandable for various parts to experience wear and tear over time. Usually, there are a collection of common problems that the average fridge will experience. As parts become worn or break, you may notice a change in the performance of your fridge. Here are a few common fridge issues that we can help you with:
• The water dispenser is not working properly
• Fridge motor has stopped working
• Temperature fluctuates
• The food isn't cool
• Ice isn't coming out of the ice maker
• Fridge is making loud and/or strange noises
• Samsung Fridge is leaking
• Food in your fridge is starting to freeze
• There is ice build-up in the freezer
• Freezer is not cooling properly
• Fridge doors not closing properly
• Fresh food compartment warming up
• Ice maker overflowing
If you notice any of these faults with your Samsung fridge, then it is time to get in touch with our experts. In every case, it is better to address these issues sooner rather than later.
Common Samsung Oven Issues.
Ovens are pretty durable appliances overall. That being said, it is not immune from small and big issues. You can do things like cleaning your oven regularly and inspecting your oven regularly, but issues will pop up from time to time. Luckily, our Samsung technicians are only a phone call away. We can fix any issue with your oven, including:
• Temperature regulation issues
• Oven won't turn on
• Samsung Oven is not cooking meals properly
• The door is not aligned properly
• The door does not close properly
• Samsung Oven interior light is not working
• Oven won't heat to the right temperature
It's recommended that you check your Samsung electric supply before calling a technician. If the power supply for your oven is in order, then the problem is best determined by a professional.
All Across the GTA
MAX Appliance Repair technicians are available for same day service throughout Toronto and the GTA.
Ajax
Alliston
Aurora
Barrie
Bolton
Bradford
Brampton
Burlington
Caledon
Cambridge
Concord
East Gwillimbury
East York
Etobicoke
Georgetown
Guelph
Halton Hills
Hamilton
Innisfil
Keswick
King City
Kitchener
Kleinburg
London Ontario
Maple
Markham
Milton
Mississauga
Newmarket
North York
Oakville
Orangeville
Oshawa
Pickering
Richmond Hill
Scarborough
Stouffville
Thornhill
Toronto
Unionville
Vaughan
Waterloo
Whitby
Woodbridge
Gallery