Washer Won't Spin
When you load laundry into your washer, you expect it to follow the set steps in the wash, rinse and spin cycle. There are several working parts involved in ensuring that your laundry comes out as spotless as it should. However, all it takes is for one of these parts to fail and you will find yourself without a working washer. If your washer won't spin, it's not a problem that should be ignored.
At Max Appliance Repair, our team will come to you anywhere in the Greater Toronto Area. As soon as we arrive, our technicians will get to work on diagnosing the problem followed by professional repairs. Same day service ensures that you don't have to be without your washer for long.
Call our Washer Repair Experts today (647) 477-0946
Possible Reasons Why Your Washer Won't Spin
There are a number of possible reasons why your washer will not spin. If clothes have become jammed or if the load of laundry is unbalanced in the drum, there are some steps you can take. An unbalanced load will need to be adjusted or it will reset the off-balance shut off switch. If you move the laundry around and this still does not solve the problem, you should check your washer to make sure it's level. If not, you will need to adjust the feet accordingly to prevent the washer from 'walking' as it spins.
Another common fault is a problem with the lid switch. Check the plastic tab on the washer lid and, if it is broken, this could be the reason why it is no longer spinning. You can test the switch by pressing and releasing it. If it does not make a click sound, it is most likely broken and requires replacing.
A more complex cause of this common problem is a fault with the drive belt. If it is worn, broken or even loose, it can prevent the washer from spinning. Depending on the precise problem, you will either need to tighten or replace the belt. Electronic controls can also become faulty with regular use. These types of problems are best diagnosed and repaired by experts.
What You Can Do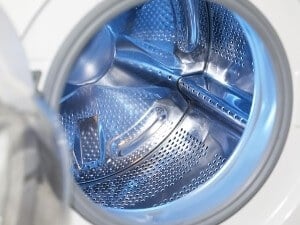 Before you call a technician, it is important that you take note of whether or not there is an uneven load to blame. If the washer is perfectly level and the load is balanced, there is most likely another cause. Take a moment to locate the model number or serial number of your washer. You should provide these details to your technician so that they arrive prepared with all the necessary tools and spare parts.
While you are discussing the fault with a technician, ask them whether you should leave your washer as is or if you should remove your laundry. Depending on the circumstances surrounding the fault, the technician will be able to tell you what you should do while you wait for them to arrive. It is also a good idea to remove anything next to your washer that could make it difficult for the technicians to inspect and work on your washer from any angle.
Why Call Max Appliance Repair
When choosing a washer repair technician, it is important that you never settle for anything less than the very best. Max Appliance Repair is just a phone call away at (647) 477-0946 and you can expect the following benefits:
Experienced, qualified and trained technicians
Affordable repairs to suit every budget
Available throughout the GTA
We are available from 7am to 10pm for your convenience
Our team arrives prepared to perform on-site repairs